Tartalomjegyzék
RULE ONE – THE GAME

1. Definitions

1.2. Basket: opponents'/own
RULE TWO – PLAYING COURT AND EQUIPMENT

2. Playing court

2.4. Lines

2.4.2. Centre line, centre circle and free-throw semi-circles

2.4.3. Free-throw lines, restricted areas and free-throw rebound places

2.4.4. 3-point field goal area

2.4.7. No-charge semi-circle areas

2.5. Position of the scorer's table and substitution chairs
RULE THREE - TEAMS

B-1

6. Captain: Duties and powers

7. Coaches: Duties and powers
RULE FOUR - PLAYING REGULATIONS

A-10

B-30

8. Playing time, tied score and overtime

B-1

9. Beginning and end of a quarter, overtime or the game

B-3

10. Status of the ball

A-3

B-3

11. Location of a player and an official

12. Jump ball and alternating possession

B-9

12.1. Jump ball definition

B-2

12.2. Jump ball procedure

B-3

12.3. Jump ball situation

B-3

12.4. Alternating possession definition

12.5. Alternating possession procedure

B-1

13. How the ball is played

B-2

14. Control of the ball

A-1

15. Player in the act of shooting

A-6

B-5

16. Goal: When made and its value

B-1
RULE FIVE - VIOLATIONS

A-8

B-18

23. Player out-of-bounds and ball out-of-bounds

27. Closely guarded player

30. Ball returned to the backcourt

A-3

B-3

31. Goaltending and Interference

A-2

B-11
RULE SIX - FOULS

A-7

B-10

33. Contact: General principles

A-7

B-10

33.2. Principle of verticality

33.3. Legal guarding position

33.4. Guarding a player who controls the ball

A-3

B-4

33.5. Guarding a player who does not control the ball

33.6. A player who is in the air

33.7. Screening: Legal and illegal

33.10. No-charge semi-circle areas

33.11. Contacting an opponent with the hand(s) and/or arm(s)

A-1

33.13. Illegal guarding from the rear

B-2
RULE SEVEN - GENERAL PROVISIONS

B-1
RULE EIGHT - OFFICIALS, TABLE OFFICIALS, COMMISSIONER: DUTIES AND POWERS

A-1

B-2

45. Officials, table officials and commissioner

46. Crew chief: Duties and powers

47. Officials: Duties and powers

48. Scorer and assistant scorer: Duties

50. Shot clock operator: Duties

A-1

B-1
A-B-C-D-E

A. A - OFFICIALS' SIGNALS

B. B - THE SCORESHEET

B.11. The running score: Additional instructions

B.12. The running score: Summing up

D. D - CLASSIFICATION OF TEAMS

D.4. Home and away games (aggregate score)

F. F - Instant Replay System
Notice: Choose an item from the table of contents
Choose an item from the table of contents
---
IMPORTANT INFORMATION
This e-Rulebook is based on the following publications:
FIBA Official Basketball Rules 2018 – Valid as of 01.10.2018

FIBA Official Interpretations – Valid as of 31.01.2019

Click here to download
---
Further useful information can be gained from the book of Basketball for Everyone by Zsolt Hartyani.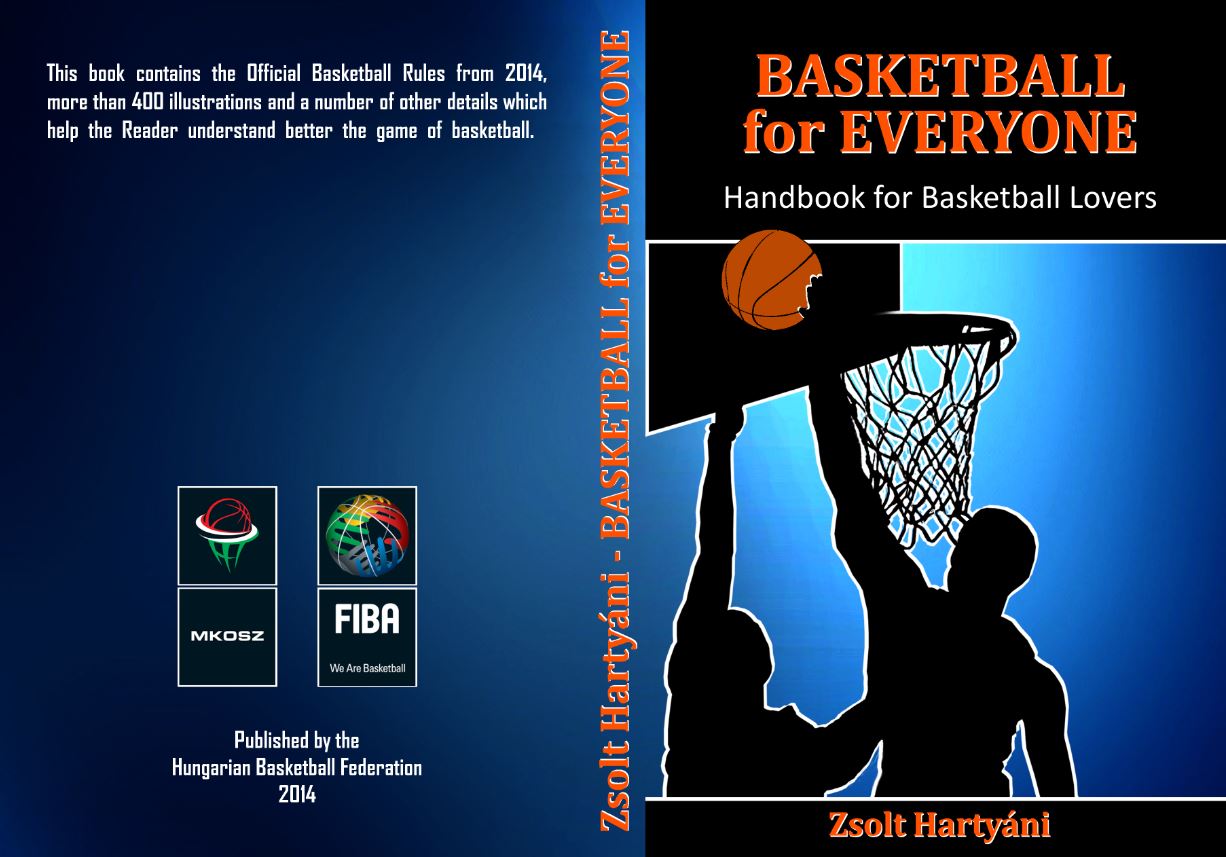 The book can be ordered from the Hungarian Federation by writing an email to this email address: webshop@hunbasket.hu
The price is 10 euros plus shipping.
This book, written by Zsolt Hartyani, contains the Official Basketball Rules valid from 2014 and illustrates them with around 450 diagrams to help the reader to understand better the game.
This book, which is approved by FIBA, can be useful not only for the experts but also for everybody, who loves basketball and wants to understand it, even for spectators.